1998年秋(10月31日〜11月3日)に香港に行った時の記録を、2016年6月5日に再掲した記事です。
This is my trip memories in Hong Kong in 1998.
Before visiting 
U.K. or China? mainly China. 
Hong Kong's new cinema, not only action or Kung Fu but cool
stylish
, Wong Karwai. 
Are there any Pubs in Hong Kong? 
Chinese food
---
It was a night when I first stepped into Hong Kong. From a bus window on the way to city from Hong Kong International Airport, traffic lights and pedestrian crossing came into my eyes and made me feel like being in England. But a bus went into the city centre, big ad-signboards over the road clamed this is Hong Kong.
---
Hostel where I stayed was
STB
Hostel in Yau Ma Tei, Kowloon. The
STB
is familiar name to me. When I was travelling around Japan, especialy Hokkaido, cos I had much money or just to save a cost to stay, I slept in the railway station with a sleeping bag. I called it
STB
.
STB
for STation Bivouac. 
STB
Hostel Inside a room Room
---
City of Lights and Sounds 
Overhead advertising signboards are one of the
most
impressed view of Hong Kong. There are many people, both Chinese and Tourists, walking on a street market. Chinese speak loud and pedestrian signals also beat a rhythm themselves! 
Nathan Road
Ladies Street Fa Yuen Street (Ladies Street) 
Temple Street
Teletubbies 
---
China is the world famous delicious food country. As a vegetarian, I listed some vegetarian restaurants. It's called Sink
Chai
food in Cantonese. I also wanted to taste Chinese morning meal like congee (rice porridge) or noodle soup with won ton. But I couldn't get into such fast food shops cos there seemed to me they would serve meat or chicken. Other chinese,
Yum
Cha and Dim Sum were tasty but they might be more tasty if I could eat with many people. One thing I doubt is prices on an English menu were higher than Cantonese. Prices were double or triple. Was I tricked??
Don't forget to drink bitter at night. Hong Kong once was a part of United Kingdom. There are some pubs around Tsuimshatsui or Central. I went two pubs while my staying. One is Irish and another is
British
. I also tried Hong Kong brewerd beers, Denmark's Carlsberg and Philippine's San Miguel. I actually don't like such lager beer but Carlsberg is a name on the Liverpool Reds' kit. Not bad for me. 
Dim Sum restaurant at Peking Road, Tsuimshatsui. 
Kung Tai Lam Shanghai stayle vegetarian restaurant at Carnarvon Road, Tsuimshatsui. 
The Source of Health Western style vegetarian restaurant at D'Aguilar Street, Central.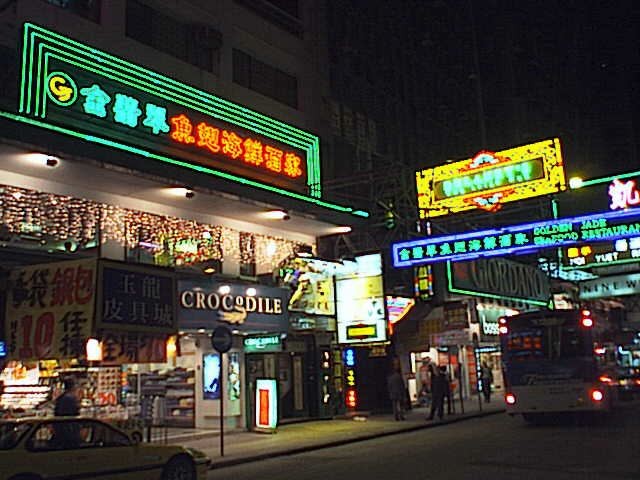 Delaney's Irish Pub. Irish pub also has own
neon
-signboard. 
Kung Fu star drinks stout at the Irish pub. 
MadDogs
British
pub near Soho (South of Hollywood road).
---
In Hong Kong, there are some interesting traffic to get around. Was a double decked bus from U.K.? Not only a bus but also tram is doble decked. You can see tram only Hong Kong Island. There are some routes between Kowloon Peninsula and Hong Kong Island but Star Ferry is cheepest route for tourist with nice view on day or night. 
Double decked bus View from a double decked bus, Nathan Road. 
Star Ferry Ferry 'cross the Harbour. Lower deck of the Star Ferry. 
Peak Tram Victria Peak Tram. 
Mini bus at Central down from the Peak. 
Double decked bus and tram in a valley of buildings, Central.
---
Don't forget to catch a cat anywhere I go:) 
Sleeping cat with fish pillow, Canton Road, Tsuimshatsui. 
Cat Street, Sheung Wan.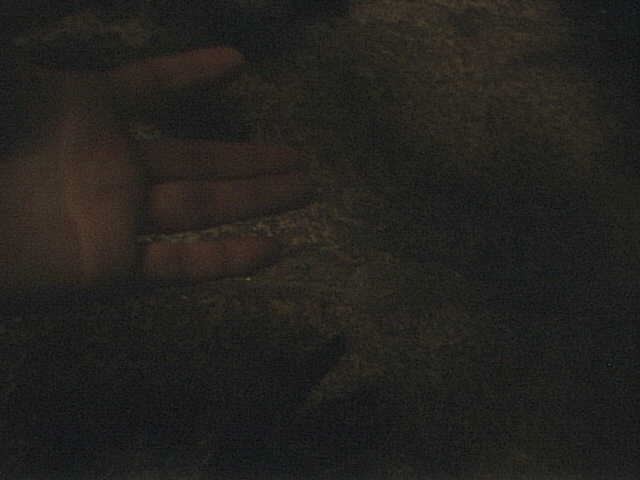 It's true there was a cat near Cat Street but...only my hand on a photo.
---
Rise of Dragon In front of the Rise of the Dragon, Victria Peak. 
From the Victria Peak. 
With Kenny in his used record shop and his friend Sam, Lok Ku Road, Sheung Wan. 
---
Three nights and four days were very short to walk around Hong Kong. There were many places I didn't go and many things I didn't do. I felt both U.K. and Asia in Hong Kong. English speaking, road
sign
and pubs for U.K. and light, sound, food and people for Asia. Old and new. Very unique area. I have to learn Cantonese for next trip.