1999年のお正月休みにLiverpoolに行った時の記録を、2016年6月8日に再掲した記事です。
This is my trip memories in Liverpool in 1998/99.
New Year's morning came later than usual morning. And it's a very special for me cos I was in my HOME. I hoped this year would be a good year for me. Mike would took a walk for his dog Goover, so I followed them. We walked around Birkenhead park. I didn't know where I was at that time but this walk made it clear.
It was almost noon already but sun was just around a ground. I know English sun didn't shine well in winter. Lynn and Mike had a busy visit today so I had to go back my place soon. We had a cup of espresso before leaving and Mike took me to YMCA.
I became alone again. This was New Year's Day,
most
of shoppers were closed. So I decided to visit Beatle places around Woolton Village by bus. My
most
favourite Beatle is always
John Lennon
. I had ever been these John's childhood area by Magical Mystery Bus tour when I had the very first Liverpool visit. But that was a very quick tour for me. So I wanted to visit there again and wanted to walk around by my foot.
Church Street
A bus matter came again. I had no idea which bus took me there and the information was closed cos of the New Year's day. So I asked some passengers about my wish. Aged ladies tried to help me but we couldn't take a good communication cos we both had a problem. My poor English and their aged ear and rare accent!! I only knew the bus number from them. Fortunately, another passenger, young guy then would go to same way. He told me the place of dropping. We took No 35 bus passed by Penny Lane.
Dropping a bus, I walk toward St. Peter's church through Church Road. Then, I saw something. Wow wow, guess what I saw! I saw a CAT on the road!! A cat came to me when I reached out with my hands. This cat knew I'm Kat. I gave him a big hug.
St. Peter's church was a place where the
history
started.
John Lennon
met
Paul McCartney
here for the first time in 1957. Exact meeting place was a church hall but I couldn't find out where the hall was. Nobody was around there. Very quiet time it was.
Peace in St. Peter's church
Then I left the church for Strawberry Field. Turn left Church Road to New Mill Street and narrow footpath. Down to Quarry Street then turn right and at the end of street then turn right to Beaconsfield. Shortly after, there was the Strawberry Field's red iron gate. Like the sound of Strawberry Fields Forever, photies I took there were out of pint or swirling.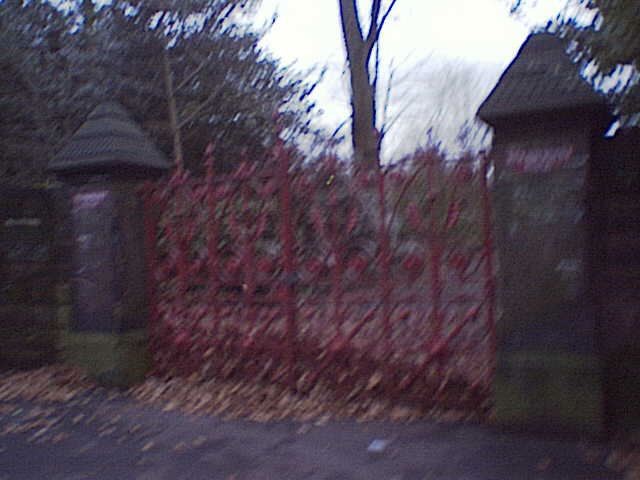 Then me feet toward to Menlove Avenue where John's old 'ouse stands.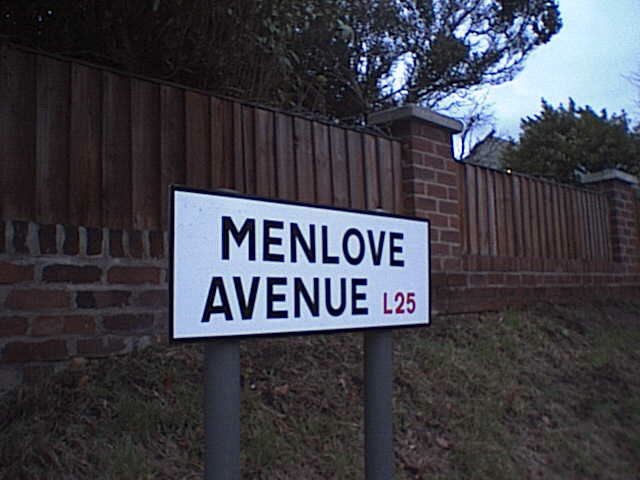 It's just an ordinary 'ouse but is special for me. I'd imagined 'bout 'is childhood days.
And there's also a place where Pam's used to live. 'Cross the Menlove Avenue, there's the Vineries.
I didn't have any ideas but wanted to try to ask if anybody's know 'bout the Turnbulls at the moment. It's the New Year's day and the street was very quiet and chilly. There's no one out there. Then a car came to the street and young girl got out from the car. So I asked a man who drive the car if he know the Turnbulls. They're not the resident and didn't know the Turnbulls. So I rung a door bell and asked another residents. Anyone knows them cos they were all newbe but advised to ask next door who lived here 60 years. I thought he might know or he might be Mr. Turnbull himself. So I tried to rung there but unfortunately there's no reply. I know this was not a scheduled plan and I finally gave up to ask and left there.
Where did I go next? Back to city centre or visit another place? Then start to walk again to Forthlin Road off Mather Avenue. Like young
John Lennon
, I walked to
Paul McCartney
house through by Allerton Park golf course. 20 Forthlin Road was now owned by National Trust and visitor could enter inside the house after booking.
I knew it but didn't have time to booking, I just looked the house from the outside.
Well, now it's time to go back to city centre. Had a dinner at De Coubertin's in North John Street. This is a sports bar and grill with lots of displays of sports memorabilia. I ordered cheese stuffed fried hot peppers, vegetable omelette with chips and glass of red wine. When I had a dinner, I found there was the Scouse stew on a menu. In fact, I had never had Scouse before. Oh I missed to have. I hope I have some day but it would be one without meat, "Blind Scouse" for veggie.
I went back to YMCA after dinner to take a short rest. A restaurant meal in foreign countries is always too large for me.
I went out again to drink at the Cavern pub in Mathew Street. There was a statue of
John Lennon
and a "wall of fame" outside the pub and a lot of photies and Merseybeat papers of sixties inside. At this pub, a guy came to me and asked if I went to football stadium. I wore LFC kit that day and answered yeah. Then he showed me his arm with
tattoo
of BLUE! No, no, I didn't mean to fight with you!! He nodded and we shook hands with each other. In my mind, I don't hate Everton and just like Liverpool a little more than others. I don't want more Bitter that time but wanted to go the Cavern club. I had to pay admission fee to enter the club. I asked the doorman if there's a live music tonight. The answer was no but I paid a fee and down stairs. There was a DJ in stage and played not oldies but nowadays' dance music. I drunk only a pint of Beamish or something and enjoyed its atmosphere. When I almost finished a pint, there were young girls' group walking around the table and one of them came to my table. She grabbed my glasses and wore on her eyes and went another place I thought it was just a joke but she didn't come back soon. I asked to another girl to bring back my glasses. Finally she returned my glasses but looked strange. What's happened?? Then I realised half of lens was lost! "Ey, where's my lens? You broke it? Or You?" I asked with strong voice but couldn't hear clear answer from them. It was not a joke for me. You never know I can see nothing without glasses. I wore a sunglasses which I had at that time. But it's night. How can I continue my trip? I went out the club with almost crying. That was a worst night. That girls must be from hell.
I rung Lynn to help me but was not home so I left a message to the answering machine.